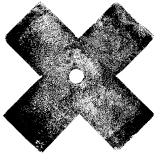 NX1 is a Surit and Samot´s project, as artist and a sub-label
of the upcoming Nexe Records:

Nexe means "nexus" in our language.
Nexe is our link with the music and the scene.
Nexe gets involved with the techno and its origins, adding our
experiences, our vision and evolution. Nexe defends the vinyl as a format
par excellence, living with digital format and futures that may come.
Nexe is a union between music, visual and graphic arts.
Nexe Records have two sub-labels: "NX1", with which we start the project,
and "A-Nexe" yet to come. Nexe is the juntion between those who
sympathize our doctrine and help to expand it.
Nexe is above all, an independent
electronic music label.
NX1 10
Absorbed by a parallel reality we come to the change. Needs never before contemplated derive in new emotions. Mix of excitement, agony, joy and anger. We digest the trip thinking about the next one. Music as nexus.

Music as nexus.
NX1 09
Resonances which push our consciousness to the most hidden corners of our mind, which remains hidden but latent, like a powerless onlooker of the generated activity, contemplative, reflective on the experience acquired. A new era is coming.

Music as nexus.
NX1 02 Black
In between an abrasive intensity, calm surprises us, embraces and surround us, evoking our thoughts to our most primitive and noble past. We know that it won't last forever. Life as a game between change and continuity.

Music as a nexus.
NX1 08
Generations coming to an end merging with the new ones at a relentless pace, altogether as one, with the same pitch leaving their position and making space for the future, beginnings and endings interpreted as a whole.

Music as nexus.
NX1 07
Memories from the past get back to us. Similar situations that come to mind, reminding rhythms that have already been marked, energetic and engaging. Without a stop, establishing a strong connection to the source. We follow the path.

Music as nexus.
NX1 06
Eyes lost in depth, arms rub against each other building connexions made to maintain cordial relationships between individuals. Nexus based on rules widely accepted and, above all, the recognition and respect.

Music as nexus.
NX1 01 Black
Suddenly we find ourselves in transition, alternating from one state to another.
Dipped into a different dynamic, slow, in transition to meet the following.
Life as a game between change and continuity.

Music as a nexus.
NX1 05
When I opened my eyes it seemed that something has changed, the same people, the same place, the same climate, but a different situation to which I adapted by inertia, lay before us a new dimension. Thick, intimate, felt.

Music as a nexus.
NX1 04
Focused in the rhythm a new sound is coming. Minds kept frozen, heads moving up and down confused into the smoke. Time has stopped.

Music as a nexus.
NX1 03
Wandering through the years, they all showed us the way. Seeking the pure essence of where we have nurtured. Cited in the margin, they passed unnoticed. They believed. We believe.

Music as a nexus.
NX1 02
Concentrated, with our head looking to our feet, moving our knees with the beat. Deepness, energy, heads facing the visuals trapped on a trip, people connecting themselves, each one in his world and everyone in the same one.

Music as a nexus.
NX1 01